2007-2021 Event Pages are currently under construction. Please contact the faculty if you need an information about the past events that happened during the time period.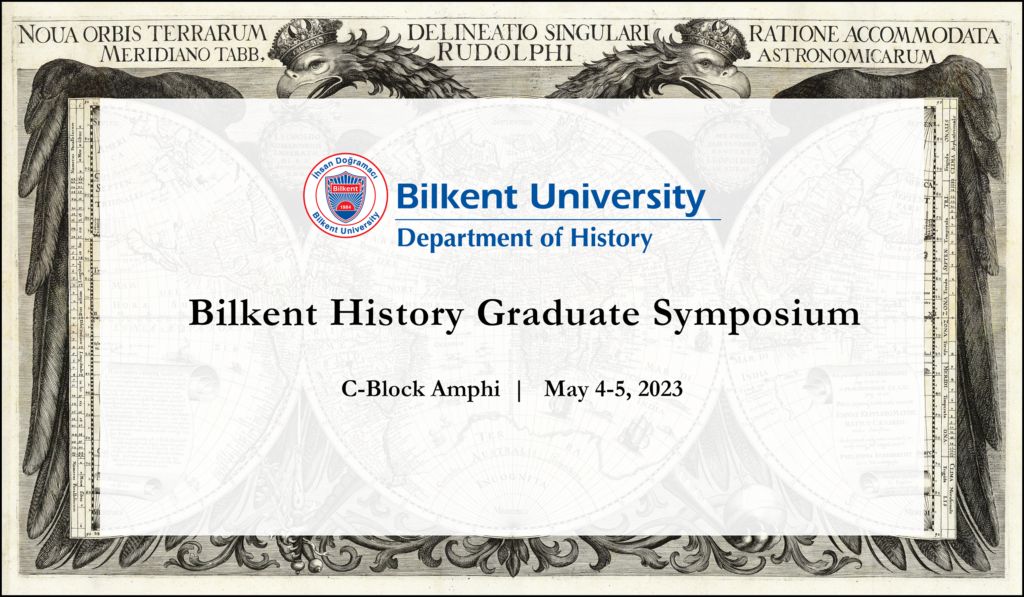 BİLKENT HISTORY GRADUATE SYMPOSIUM
4-5 May 2022
Twenty eight graduate students from various universities of Turkey, Europe and United States will present their work in eight panel sessions at this two-day event which will be held at C-Block Amphi from 10:30 till 17:30 each day.
Keynote Speaker: Christoph K. Neumann – The Director of the Orient-Institut Istanbul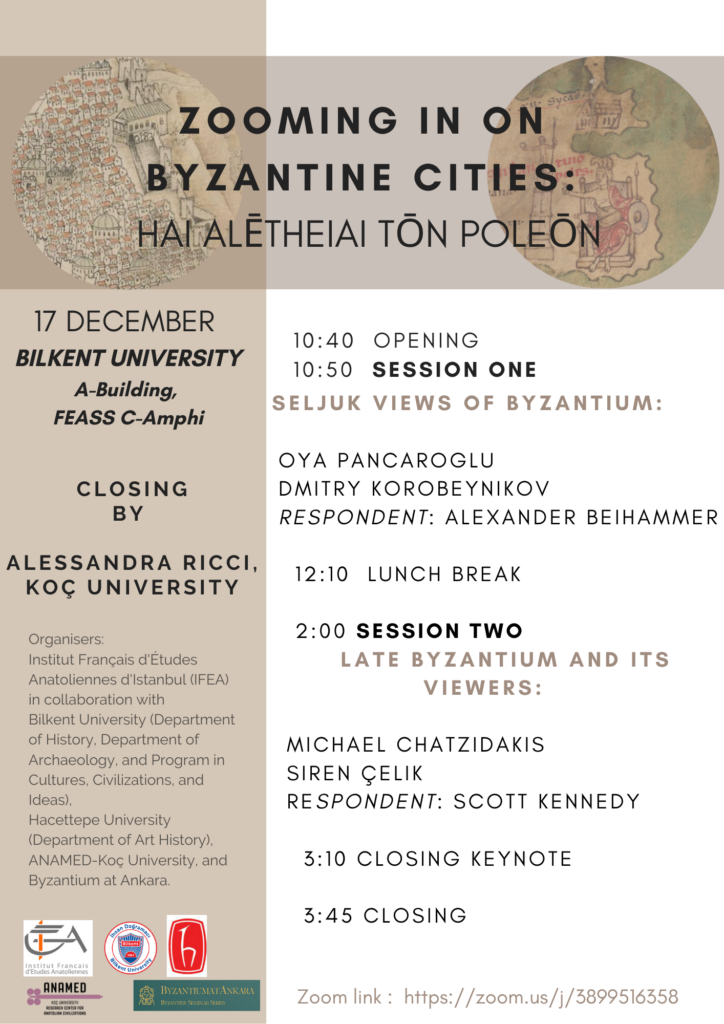 Important information about the event: This event took place in multiple dates in multiple locations. To find the information related to other sections of the event, please check: Off-Campus Events
ZOOMING IN ON BYZANTINE CITIES: HAI ALĒTHEIAI TŌN POLEŌN
17 DECEMBER
10:40 Session One
Seljuk View of Byzantium:
Oya Pancaroğlu
Dmitry Korobeynikov 
Respondent: Alexander Beihammer
2:00 Session Two
Late Byzantium and It's Viewers
Mİchael Chatzidakis
Siren Çelik 
Respondent: Scott Kennedy
DETAILED PROGRAM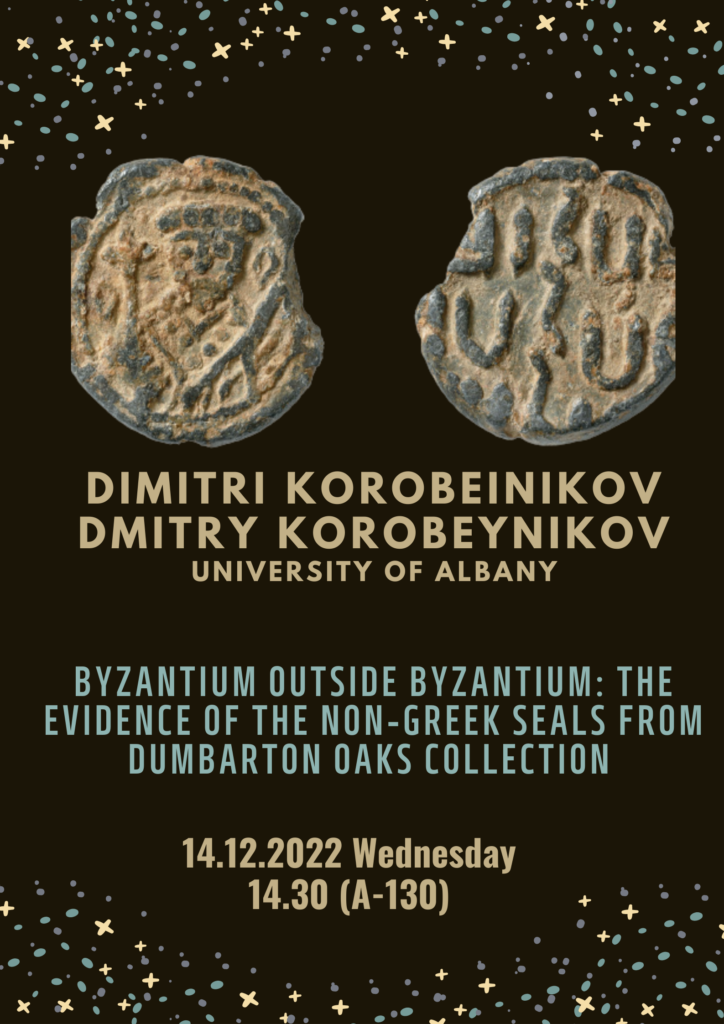 SEMINAR
"Byzantium Outside Byzantium: The Evidence of The Non-Greek Seals From
Dumbarton Oaks Collection"
by
Dimitri Korobeinikov
(University of Albany)
Date: 14.12.2022
Time: 14:30
Room: A-130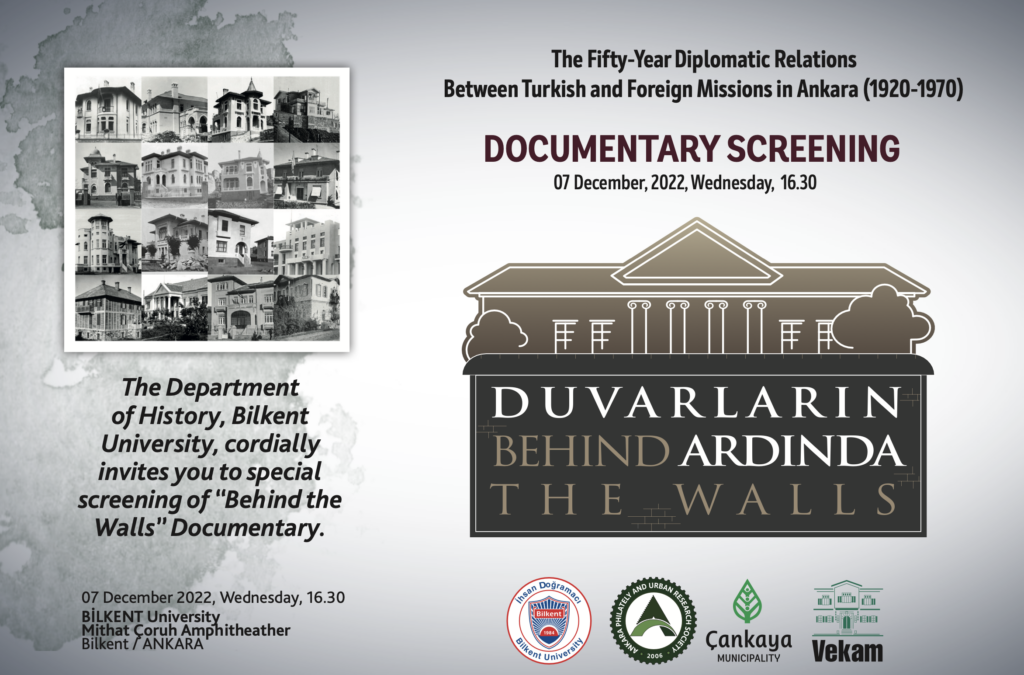 DOCUMENTARY SCREENING

"Behind the Walls"The Department
of History, cordially invites you to special screening of "Behind the Walls" Documentary.

Date: 07 December 2022, Wednesday,
Avenue: Mithat Çoruh Amphitheather
Time: 16.30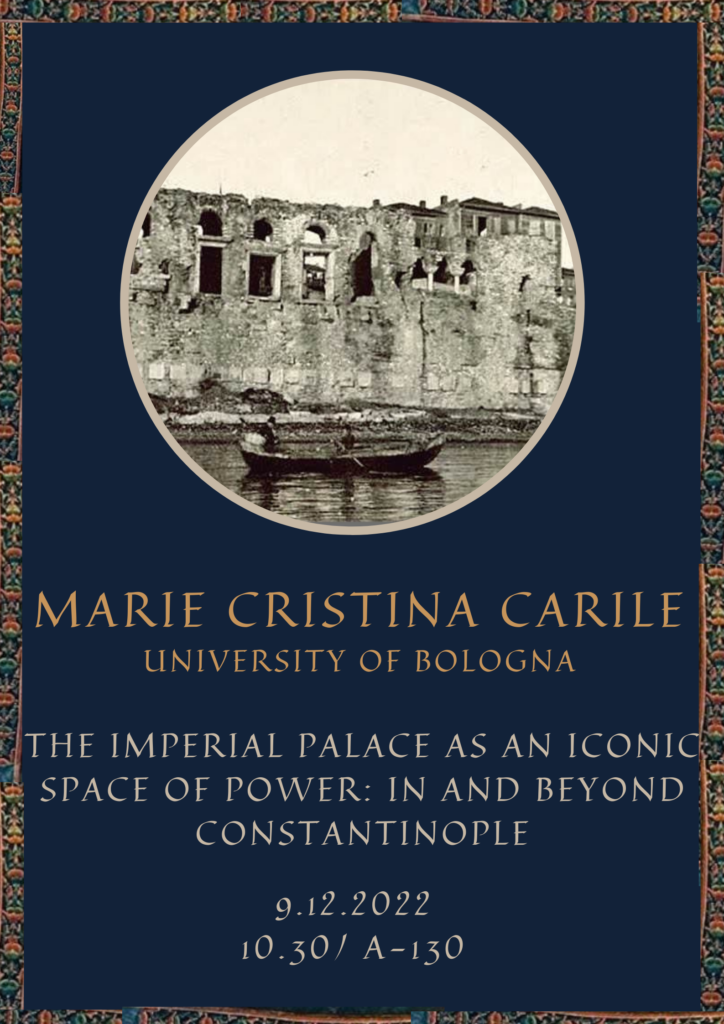 SEMINAR

"The Imperial Palace as an Iconic Space of Power: In and Beyond Constantinople"
by
Marie Cristina Carile
(University of Bologna)

Date: 9.12.2022
Time: 10.30
Room: A-130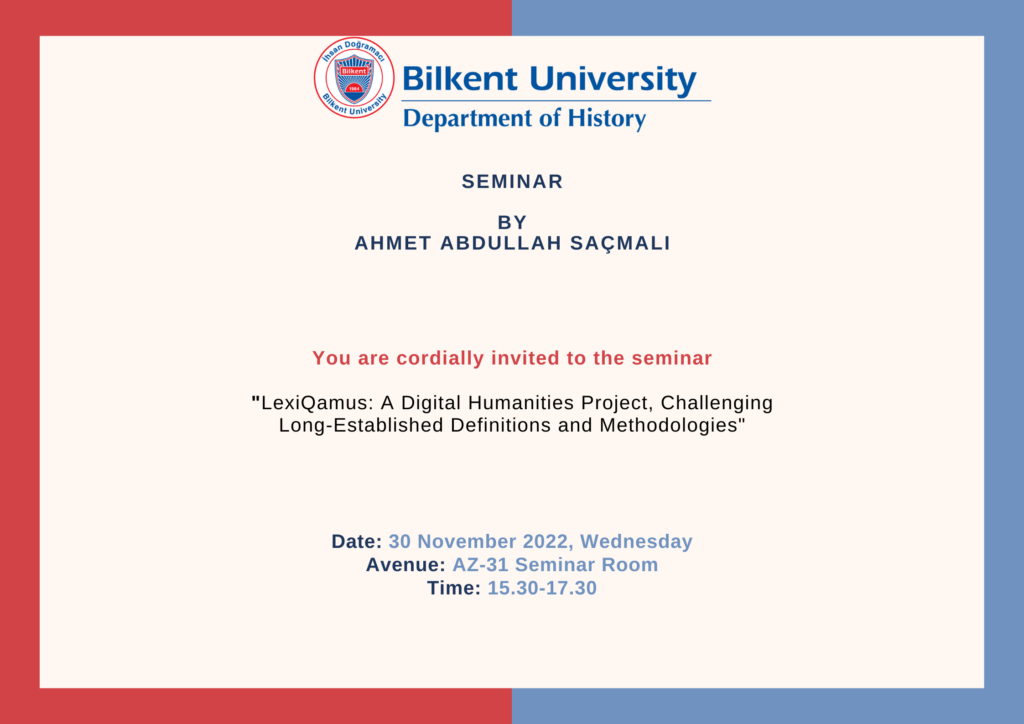 SEMINAR

"LexiQamus: A Digital Humanities Project, Challenging Long-Established Definitions and Methodologies"

by
Dr. Ahmet Abdullah Saçmalı

Date: 30 November 2022, Wednesday
Avenue: AZ-31 Seminar Room
Time: 15.30-17.30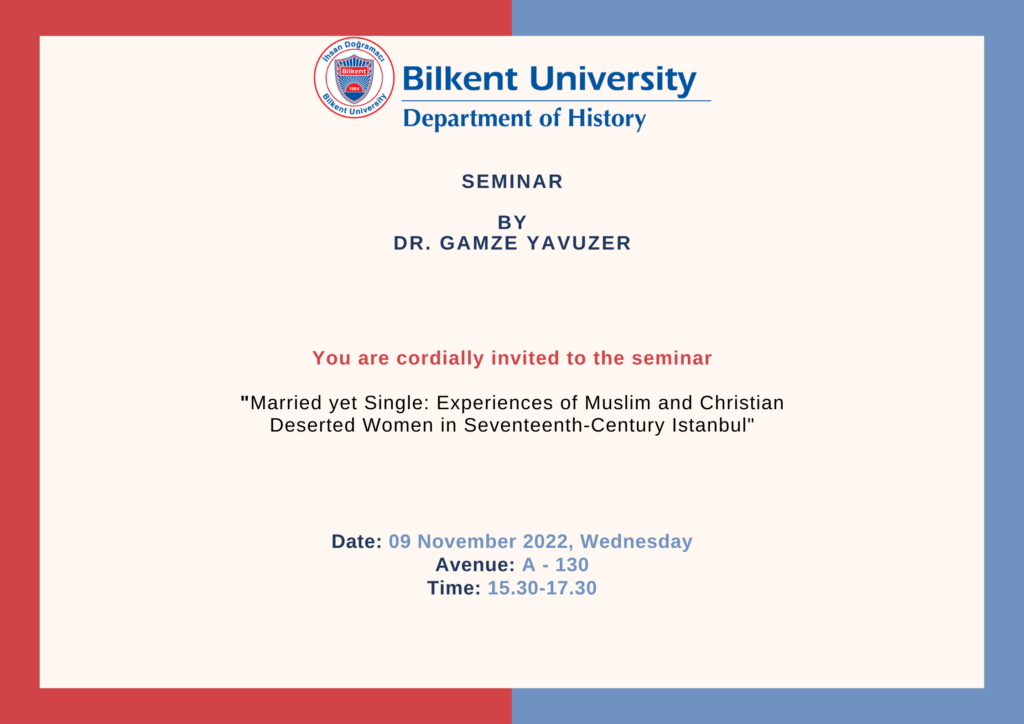 SEMINAR

"Married yet Single: Experiences of Muslim and Christian Deserted Women in Seventeenth-Century İstanbul"

by
Dr. Gamze Yavuzer

Date: 09 November 2022, Wednesday
Time: 15.30-17.30

BİLKENT HISTORY GRADUATE SYMPOSIUM
9-10 May 2022

Twenty six graduate students from Bilkent University, Bogazici University, Middle East Technical Umiversity and Koç University will present their work in eight panel sessions at this two-day event which will be held at C-Block Amphi from 09:30 till 17:00 each day.

Symposium Program
Twitter Account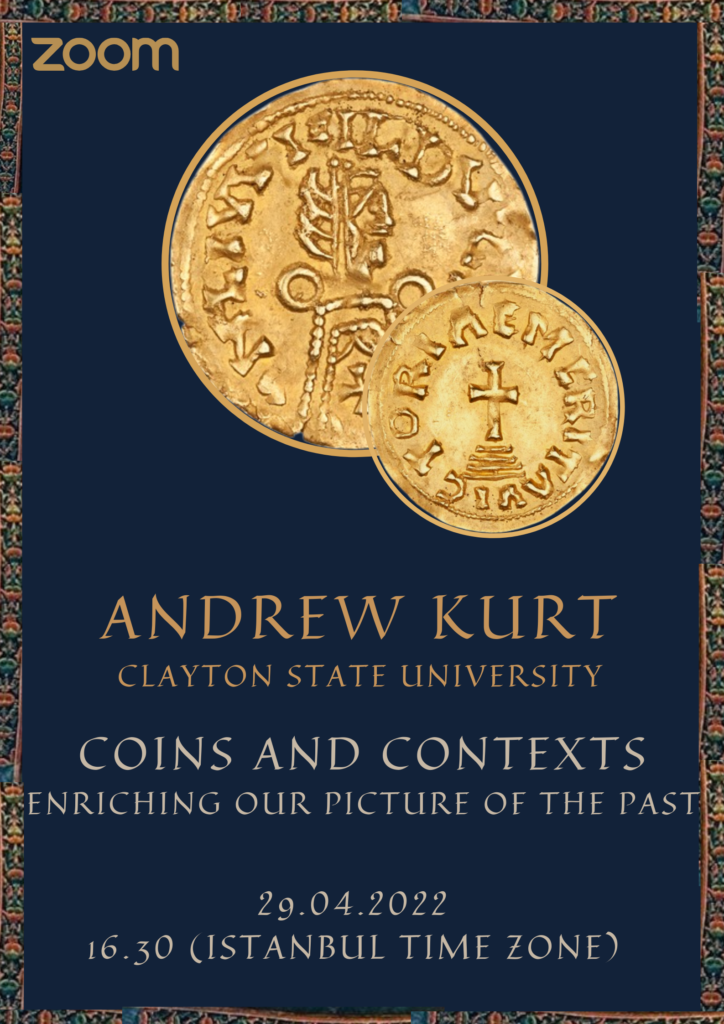 SEMINAR
"Coins and Contexts – Enriching Our Picture of the Past"

by
Assoc. Prof. Andrew Kurt

Date: 29.04.2022
Time: 16.30 (GMT +3)
Zoom Meeting Link (removed due to being a past event)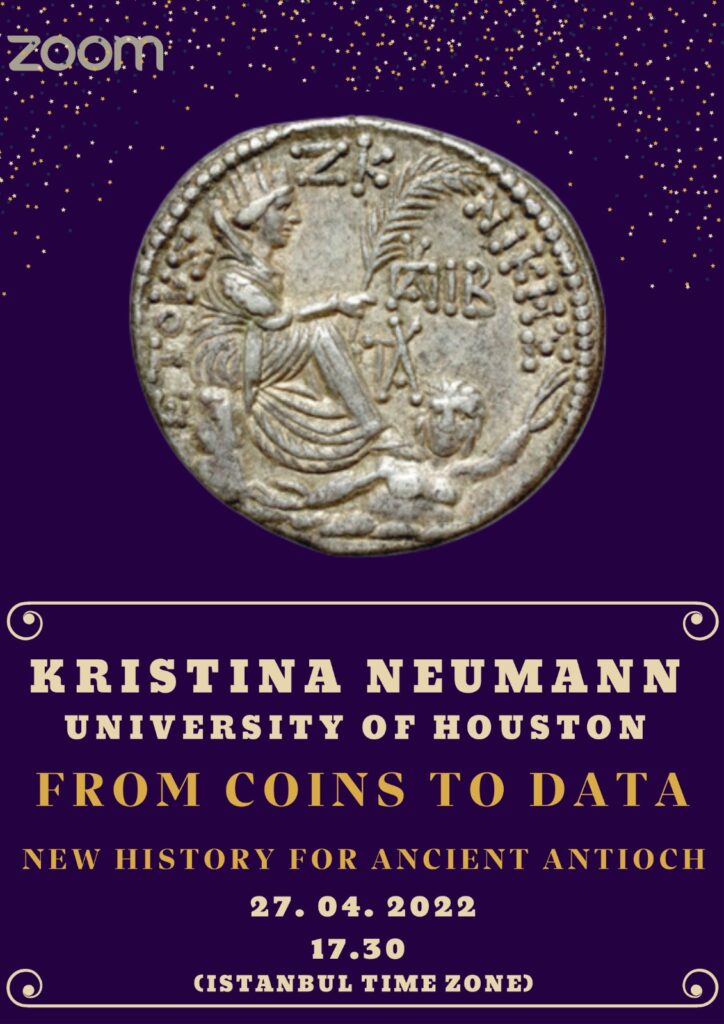 SEMINAR
"From Coins to Data: New History for Ancient Antioch"
by
Assoc. Prof. Kristina Neumann
Date: 27.04.2022
Time: 17.30 (GMT +3)
Zoom Meeting Link (removed due to being a past event)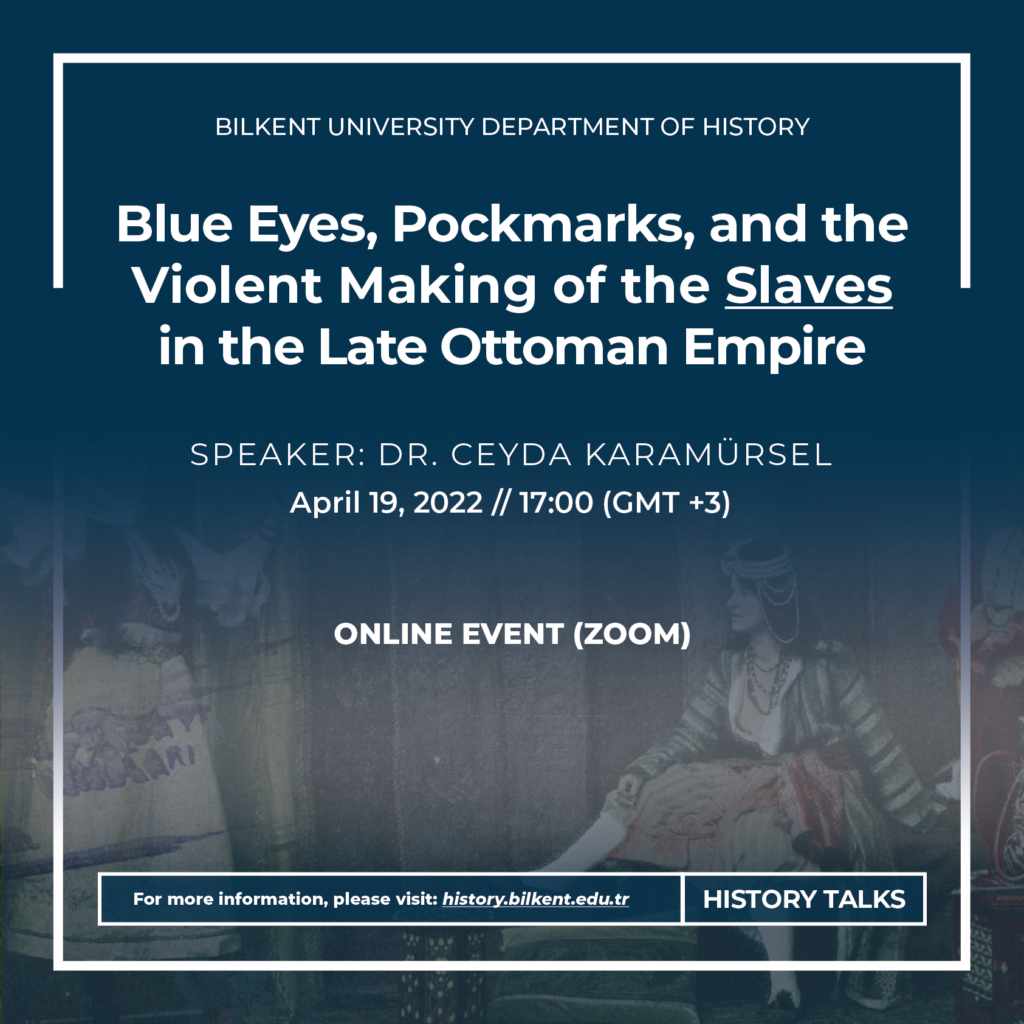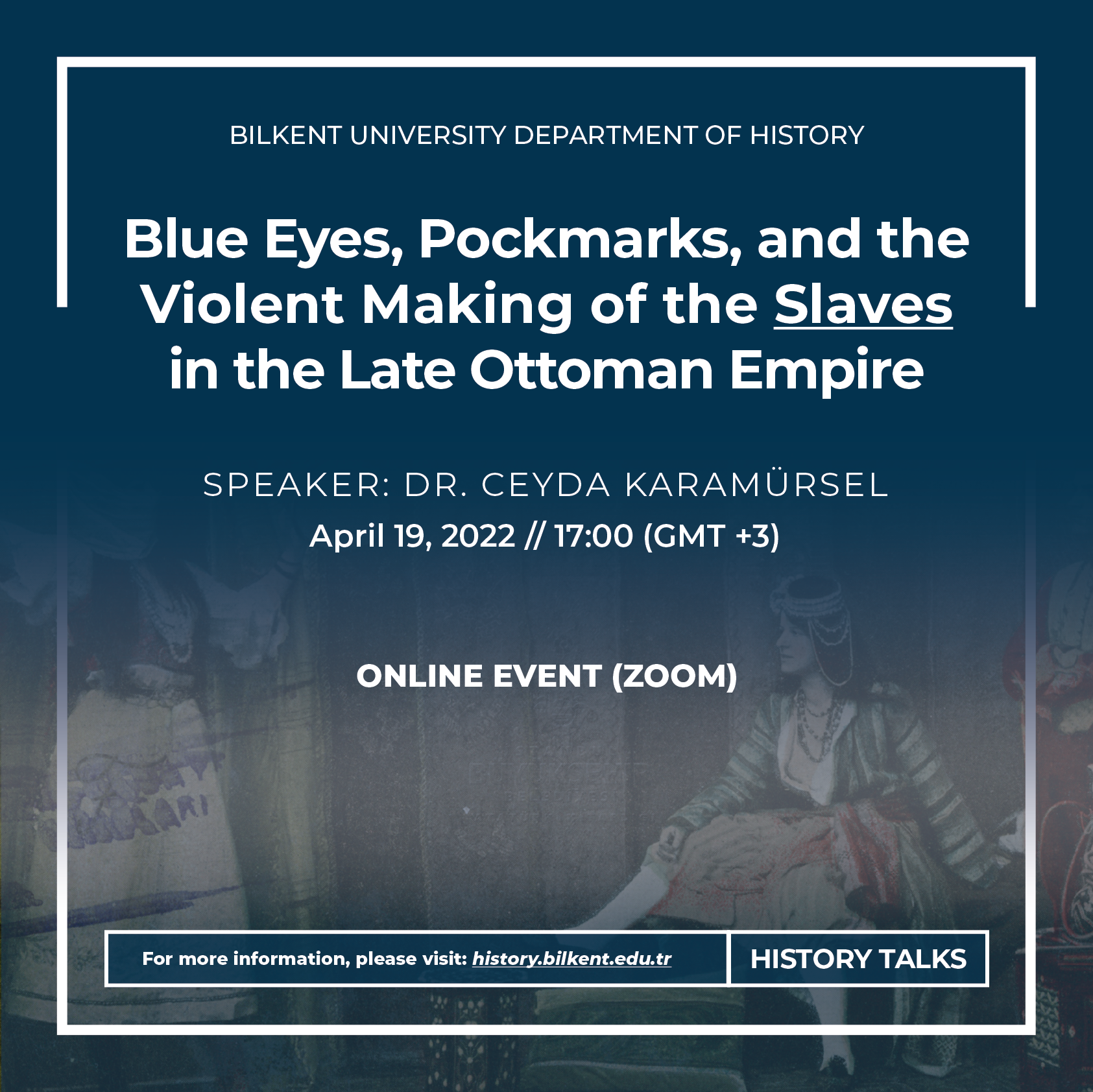 HISTORY TALKS

"Blue Eyes, Pockmarks, and the Violent Making of the Slaves in the Late Ottoman Empire"
by
Dr. Ceyda Karamürsel

Date: 19.04.2022
Time: 17.00 (GMT +3)

Online Event (Zoom) (removed due to being a past event)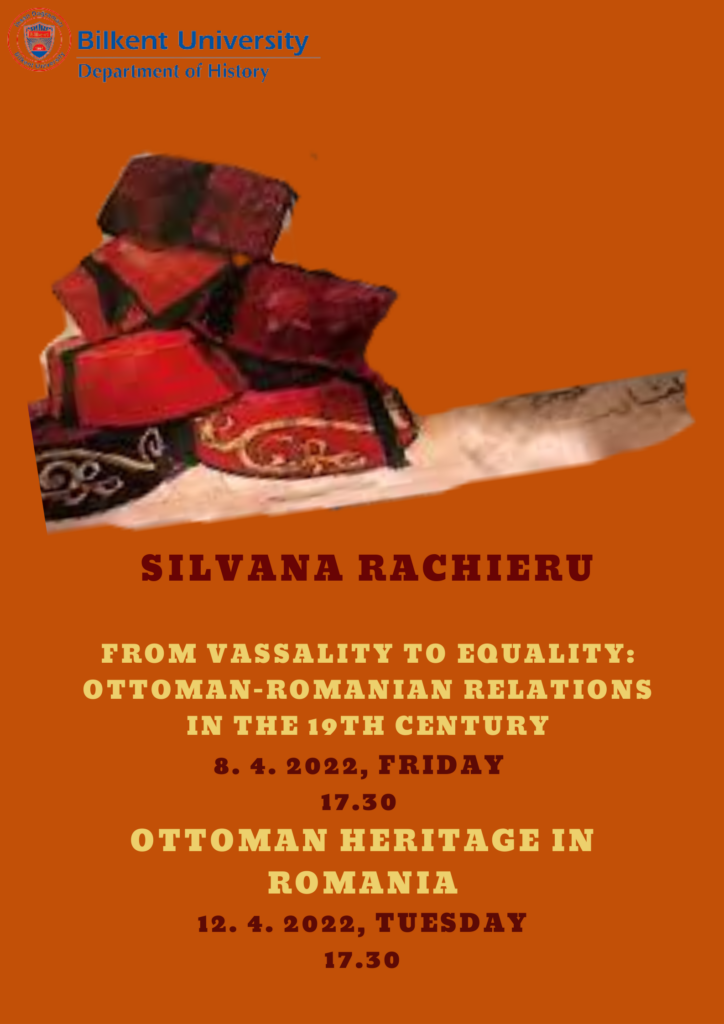 SEMINAR
by
Silvana Rachieru
"From Vassality to Equality: Ottoman-Romanian Relations in the 19th Century"
08. 04. 2022 Friday. 17.30
Online or Face to Face (Room AZ 31)
Zoom Link (removed due to being a past event)
and
"Ottoman Heritage in Romania"
12.04.2022, Tuesday. 17.30
Online or Face to Face (Room AZ 31)
Zoom Link (removed due to being a past event)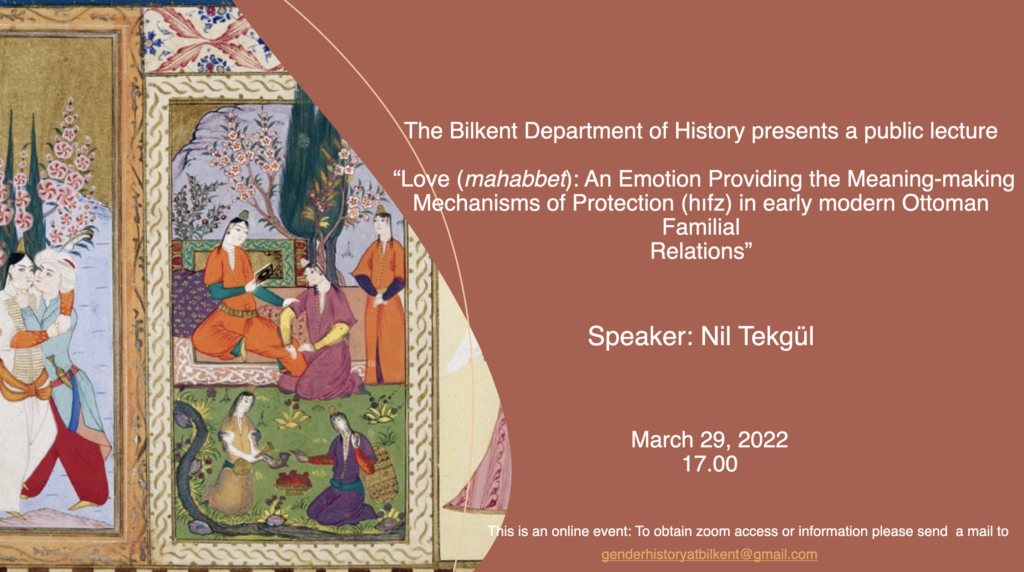 SEMINAR
"Love (mahabbet): An Emotion Providing the Meaning-making Mechanisms of Protection (hıfz) in early modern Ottoman Familial Relations"
by
Dr. Nil Tekgül
(the Department of History)

Date: 29.03.2022
Time: 17.00 (İstanbul Time Zone)
Zoom Meeting Link (removed due to being a past event)
PUBLIC LECTURE
"Can Ottoman Women Speak? An Inquiry into Ottoman Gender
Studies"
by
Asst. Prof. Dr. Berrak Burçak
Date: 08.03.2022
Time: 17.00 (Ankara Time Zone)

Zoom Link (removed due to being a past event)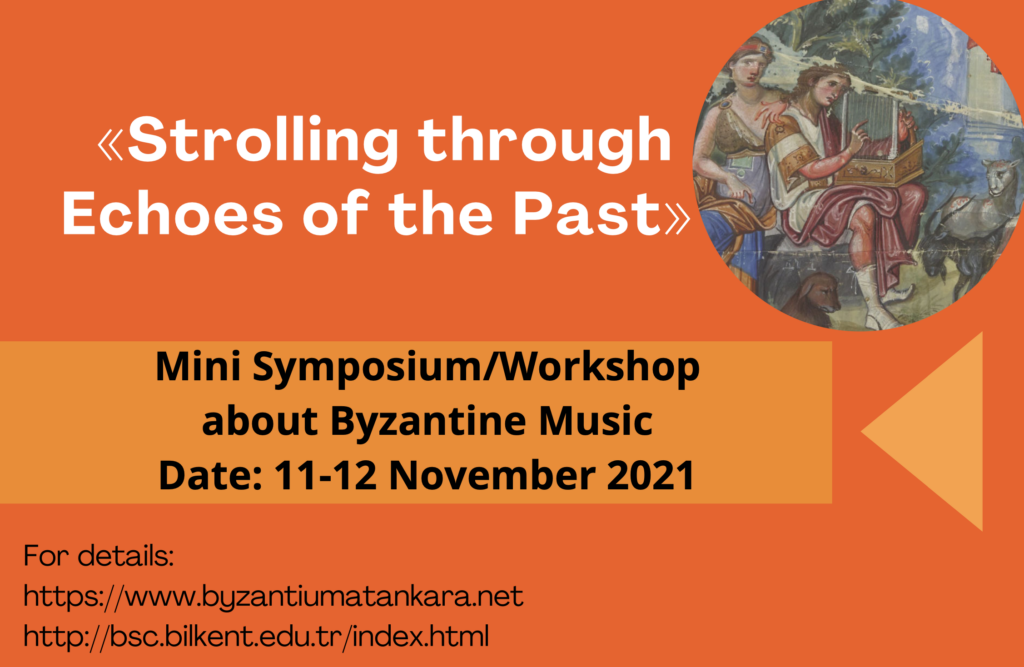 MINI SYMPOSIUM/WORKSHOP
"Strolling Through Echoes of the Past: Byzantine Music"

This mini symposium/workshop aims to explore the many facets of Byzantine music and its legacy. The symposium provides also a Byzantine Note-Reading Workshop. Friday's session will be concluded with a concert program.
(Zoom Event)
Detailed Program

For more details:
Byzantium at Ankara
Bilkent Saygun Center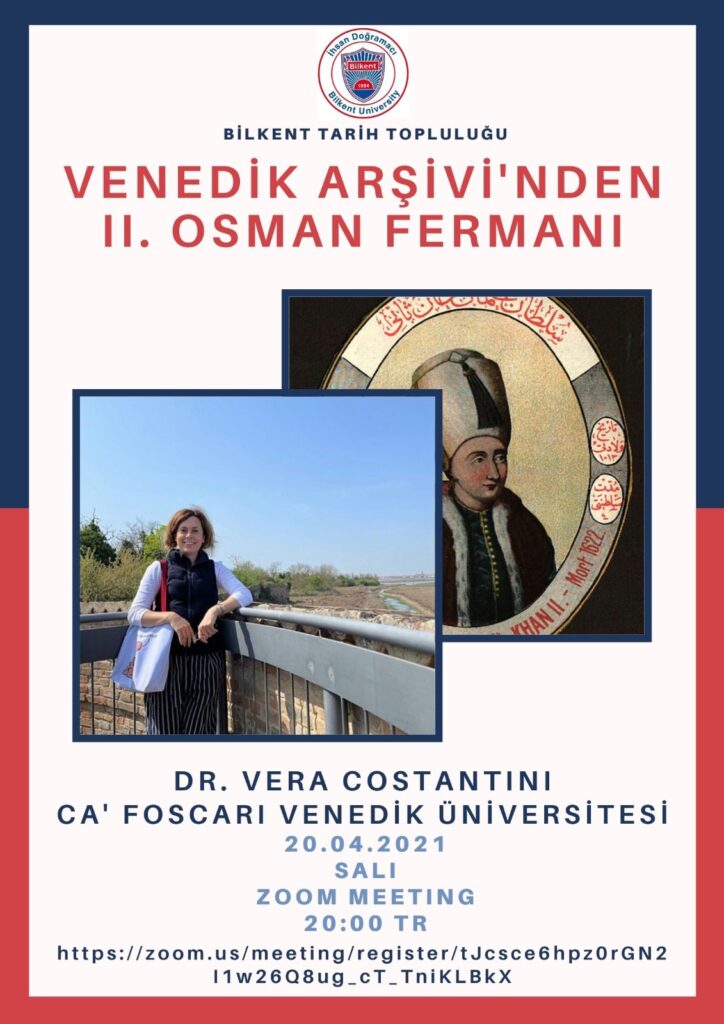 BİLKENT HISTORICAL SOCIETY TALKS

"Venedik Arşivi'nden II. Osman Fermanı"

by
Dr. Vera Costantini
(Ca' Foscari Venedik Üniversitesi)

Date: 20.04.2021 Tuesday
Time: 20:00 (Ankara Time Zone)
Zoom Meeting Info (removed due to being a past event)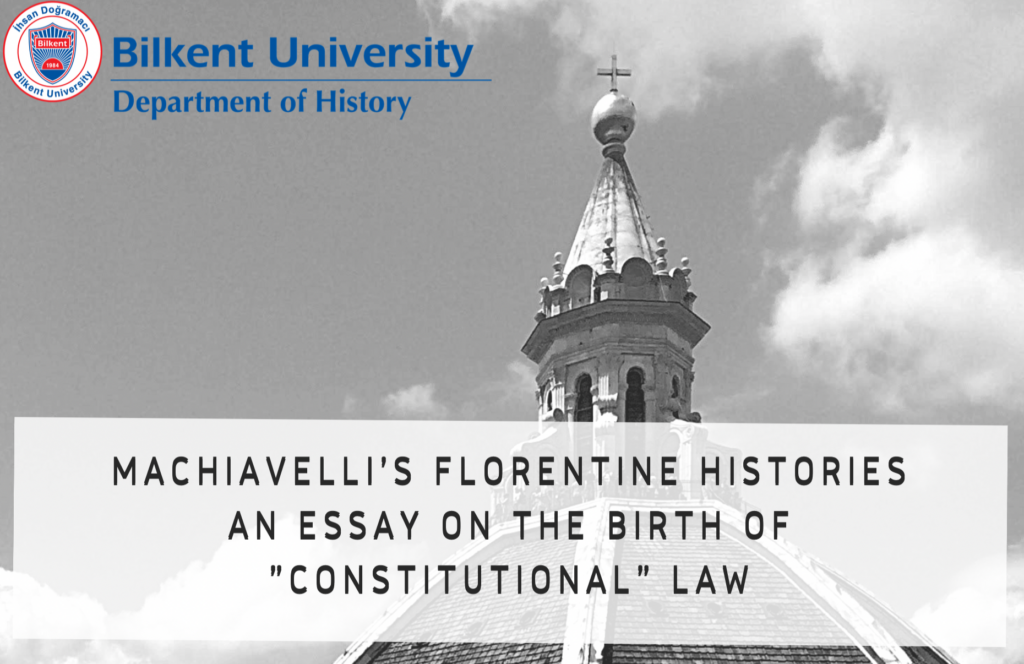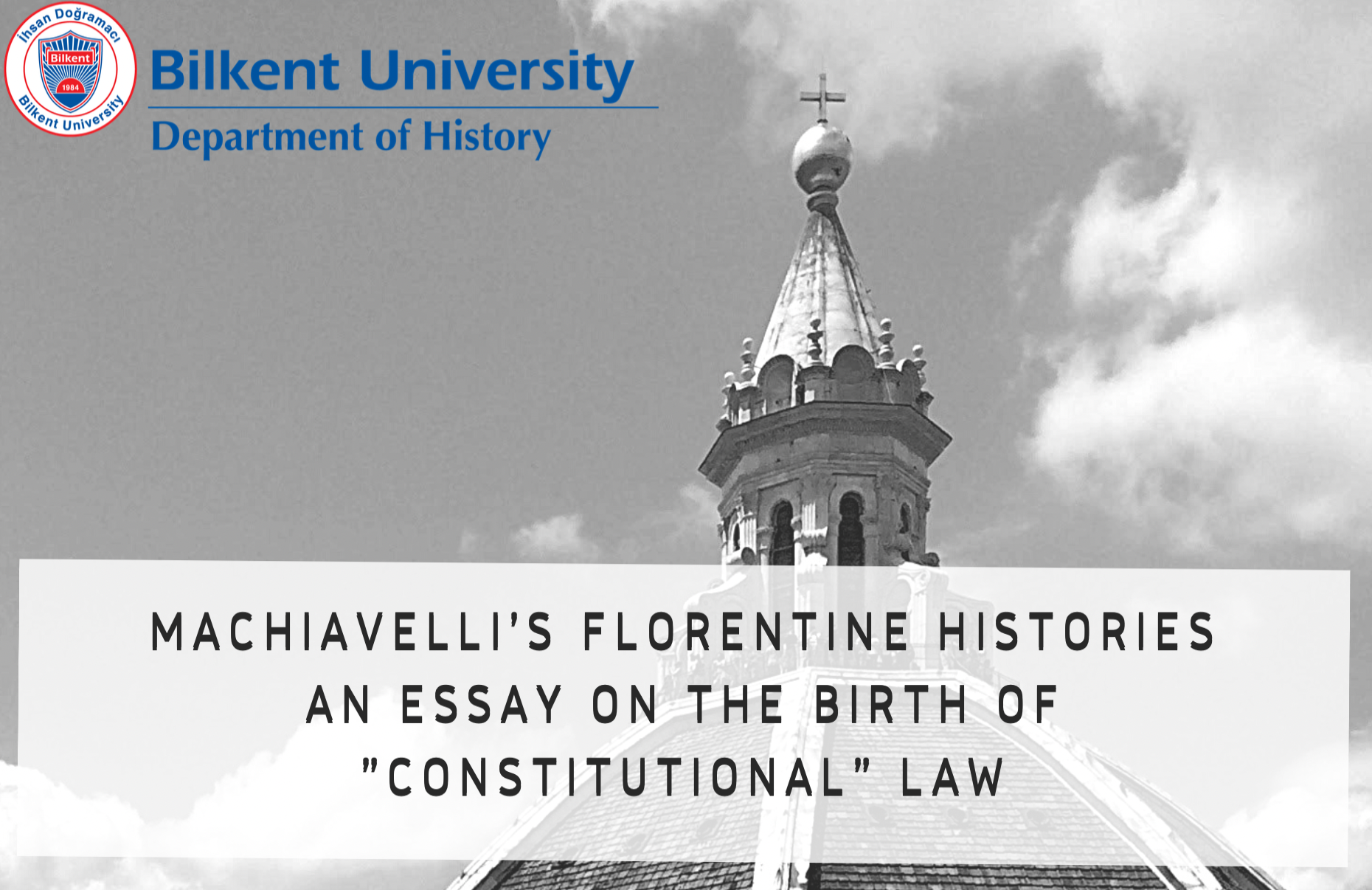 SEMINAR
"Machiavelli's Florentine Histories: An Essay on the Birth of 'Constitutional' Law"
by
Prof. Levent Yılmaz (University of Paris Nanterre)
Date: 08.04.2021, Thursday
Time: 16.30 (Ankara Time Zone)
Zoom Meeting Info (removed due to being a past event)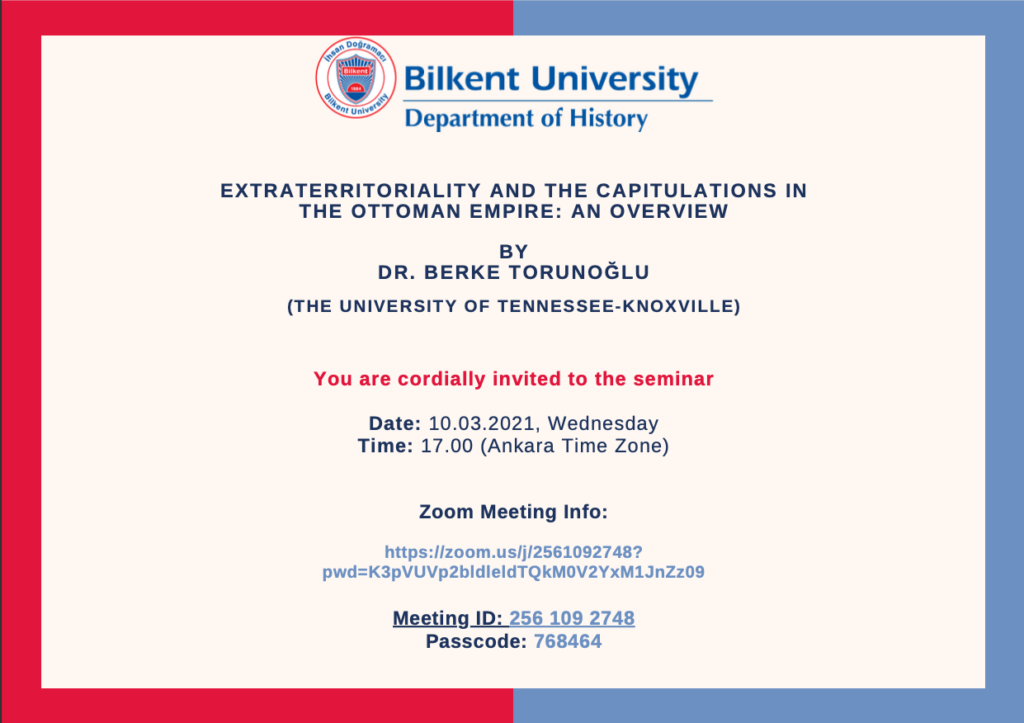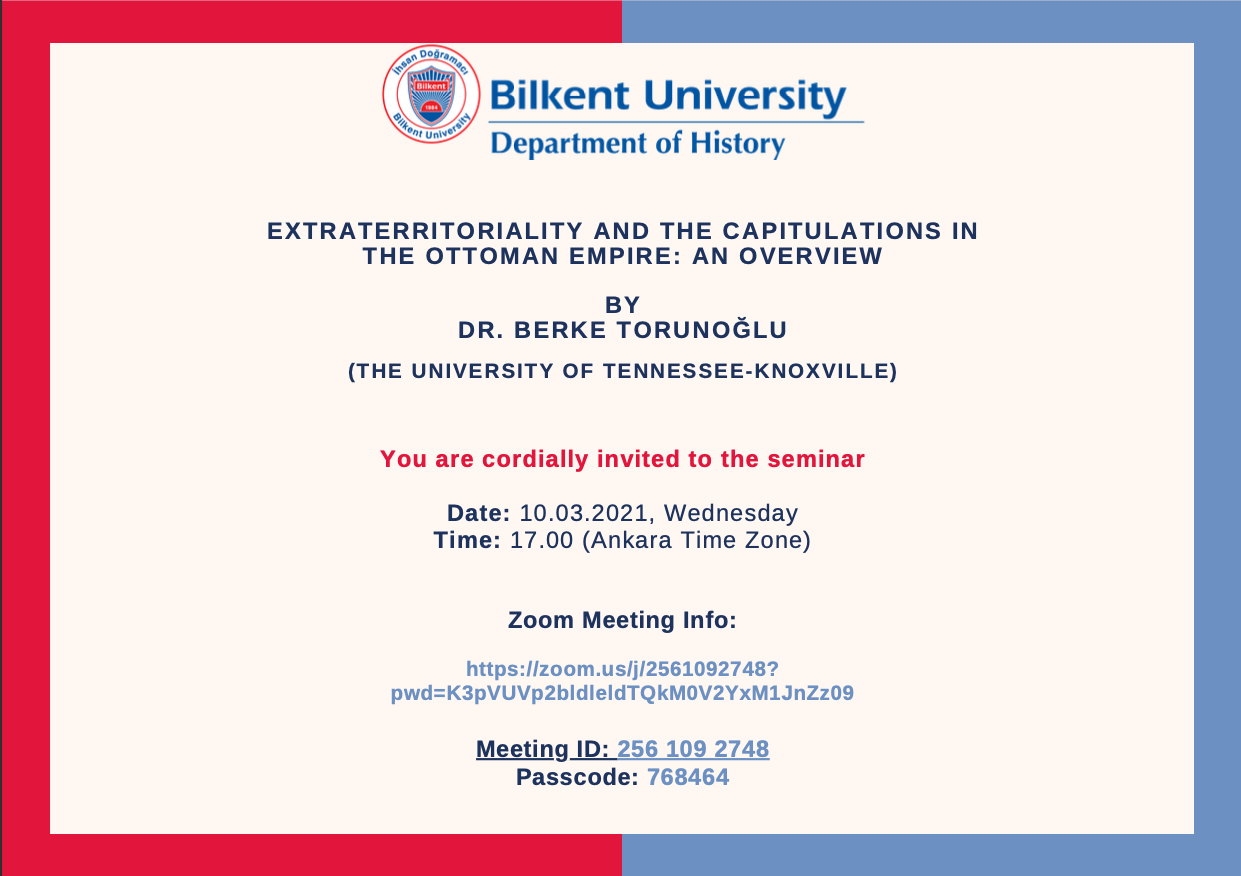 EXTRATERRITORIALITY AND THE CAPITULATIONS IN THE OTTOMAN EMPIRE: AN OVERVİEW
By

Dr. Berke Torunoğlu
(The University of Tennessee-Knoxville)
Date:10.03.2021, Wednesday
Time: 17.00 (Ankara Time Zone)

Zoom Meeting Info (removed due to being a past event)